Earlier this year, three PREM students represented Puerto Rico at the Intel International Science and Engineering Fair (ISEF) — the world's largest international pre-college science competition — in Los Angeles, CA.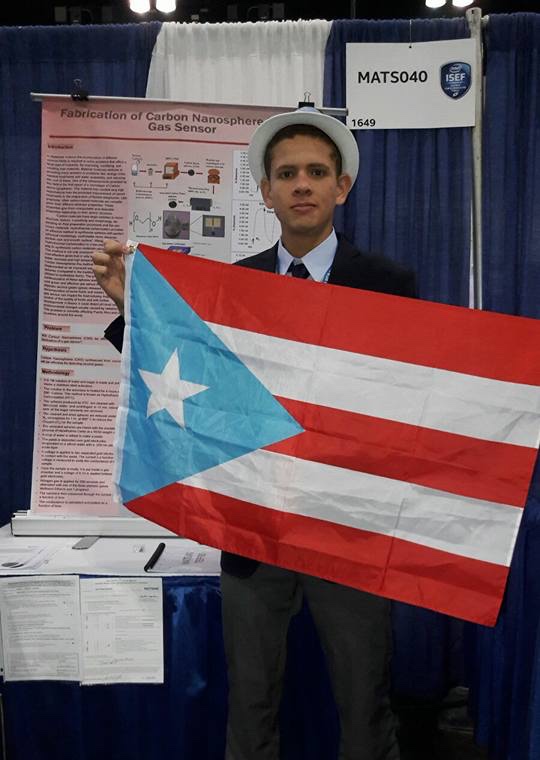 José Luis Pérez-Gordillo from Petra Mercado High School in Humacao, José Luis Ramírez from CIMATEC High School in Caguas, and Marialis Casillas from Thomas High School in Ponce, presented their research in the Materials Science and Environmental Engineering category.
As part of his project, entitled "Fabrication of a carbon nanosphere-based gas sensor," Gordillo prepared carbon nanospheres via hydrothermal carbonization of sucrose. He analyzed the morphology, size, crystallinity, and electrical conductivity of the spheres using PREM instruments and facilities at the University of Puerto Rico at Humacao. Finally, he used the spheres to construct a gas sensor that demonstrated excellent response in detecting and discerning between various aliphatic gases.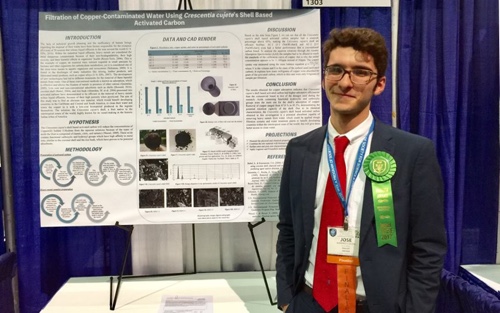 Ramírez's research was focused on the filtration of copper-contaminated water using Crescentia cujete's shell-based activated carbon. He won fourth place for his work. In August, Ramírez traveled to China to participate in the China Adolescent and Technology Contest, where he won a second prize for his project.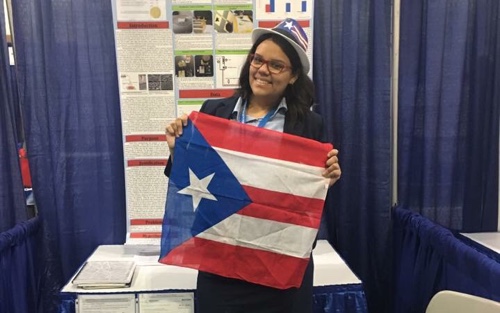 For her research, Casillas developed a novel method to detect alcohol vapors based in the polymeric nanofiber PEDOT:PSSA.
In all, between 2016 and 2017, 11 high school students from Puerto Rico participated in state and regional science fairs, presenting research they developed in collaboration with PREM faculty and staff at UPR-Humacao and UPR-Cayey.
Check out highlights from the 2017 Intel ISEF.
(Images are courtesy of ISEF.)